I have used my extensive skills and knowledge as an experienced health professional, researcher, and coach to create these courses. Each course aims to put the Knowledge in your Hands so that you can influence change in your life and others.
How to set up in Private Practice – Everything you need to know as an Occupational Therapist, Speech and Language or Physiotherapist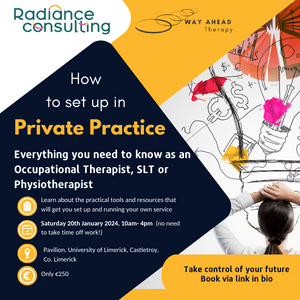 Join our dynamic full-day workshop for aspiring or early career entrepreneurs in private practice. Learn about diverse business structures such as Sole Trader versus Company, delve into essential practicalities like insurance, tax, and accountancy, and gain insights into idea development and marketing strategies. Explore legal and ethical considerations while understanding how to resource and optimise your time in private practice effectively. Discover the necessary experience to successfully establish your venture and engage in interactive sessions to address your inquiries. Don't miss this opportunity to enhance your business acumen and embark on a successful private practice journey.
€250
Location: Pavilion University of Limerick, Castletroy, Co. Limerick
In-Person Saturday, 20th January 2024 10am – 4pm.
Supervision Training for Health Professionals
Áine designs supervision courses tailored to the health professional's needs so that you can gain the confidence to deliver exceptional supervision that elevates outcomes for supervisees, organisations, and clients.
This supervision training is designed to be pragmatic and practical, allowing you to apply newly acquired skills through simulated supervision sessions. By seamlessly integrating theory and research, we ensure that your supervisory practice is evidence-informed and highly effective.
Áine is an experienced supervisor who holds a postgraduate certificate in Clinical Supervision. In addition she has co-authored several chapters in the recently published book "Supervision for Occupational Therapy: Practical Guidance for Supervisors and Supervisees". Dancza, K., Volkert, A., & Tempest, S. (Eds.) (2023).
Course content
Introduction to supervision
Understanding how models of supervision can help to structure and guide sessions
Conducting formal supervision, e.g., contracting, facilitating sessions, and documentation
Supervisory practice skills, e.g., communication skills, giving feedback
Facilitating reflective practice that enhances professional development
Managing difficult conversations and supervisory boundaries
Supporting the supervisee to deal with the emotional demands and challenges of their work
Legal & Ethical Issues in supervisory practice